Ontario Specialty Coatings Corporation provides prepared ink jet receptive coatings, clear protective top coatings, receptive coating intermediate materials, rigid ink jet receptive media materials, mixing and compounding services, and technical consulting services to the digital printing industry and manufacturers of water based coating materials.
We specialize in the manufacture of ink jet receptive coatings. Our ink jet receptive coating products include white matte, clear gloss, semi-gloss, and metallic coatings which are available ready to be applied in the coating process. We also custom design ink jet receptive coatings for papers, films, nonwovens, and textiles for specific end products and application methods. Working on a confidential basis with manufacturers of ink jet media and suppliers of specialty ink jet coating pigments, binders, and additives, we provide expertise in ink jet formulation development, substrate selection, coating preparation, and application technology. In addition, we manufacture a line of cationic polymer coating additives which have been specially designed to improve and enhance ink jet receptivity.
We also provide complete manufacturing services for the production of water based solutions, dispersions, clear coatings, and pigmented coatings. Using state of the art mixing and dispersing equipment from Kady International, we manufacture products which consistently meet the desired quality specifications of our customers from batch to batch.
Finally, we are available, through this website, to assist professional graphic artists interested in earning more about the wide variety of ink jet media available and how to choose the most appropriate printing media. Ontario Specialty Coatings Corporation conducts a continuing research and development program dedicated to ink jet media, utilizing various substrate and ink receptor materials. This information, together with information from sources in the public domain including the United States Patent and Trademark Office, literature review and retrieval services, and periodicals is combined to provide a continually changing overview of the design and manufacture of ink jet media with respect to existing and new printers and the ever expanding base of applications for which the graphic arts industry is utilizing ink jet printing technology.
Thank you for visiting Ontario Specialty Coatings Corporation. We hope you will find our site useful and will return to visit again. It is our intention to provide current and complete information on the rapid changes occurring in the field of ink jet printing technology and end use applications. To that end, we would appreciate your comments and questions regarding any information which we may have omitted or have not yet received.

Featured Application
2003 ESRI Map Gallery
features the 50th Anniversary of the first ascent of Mount Everest.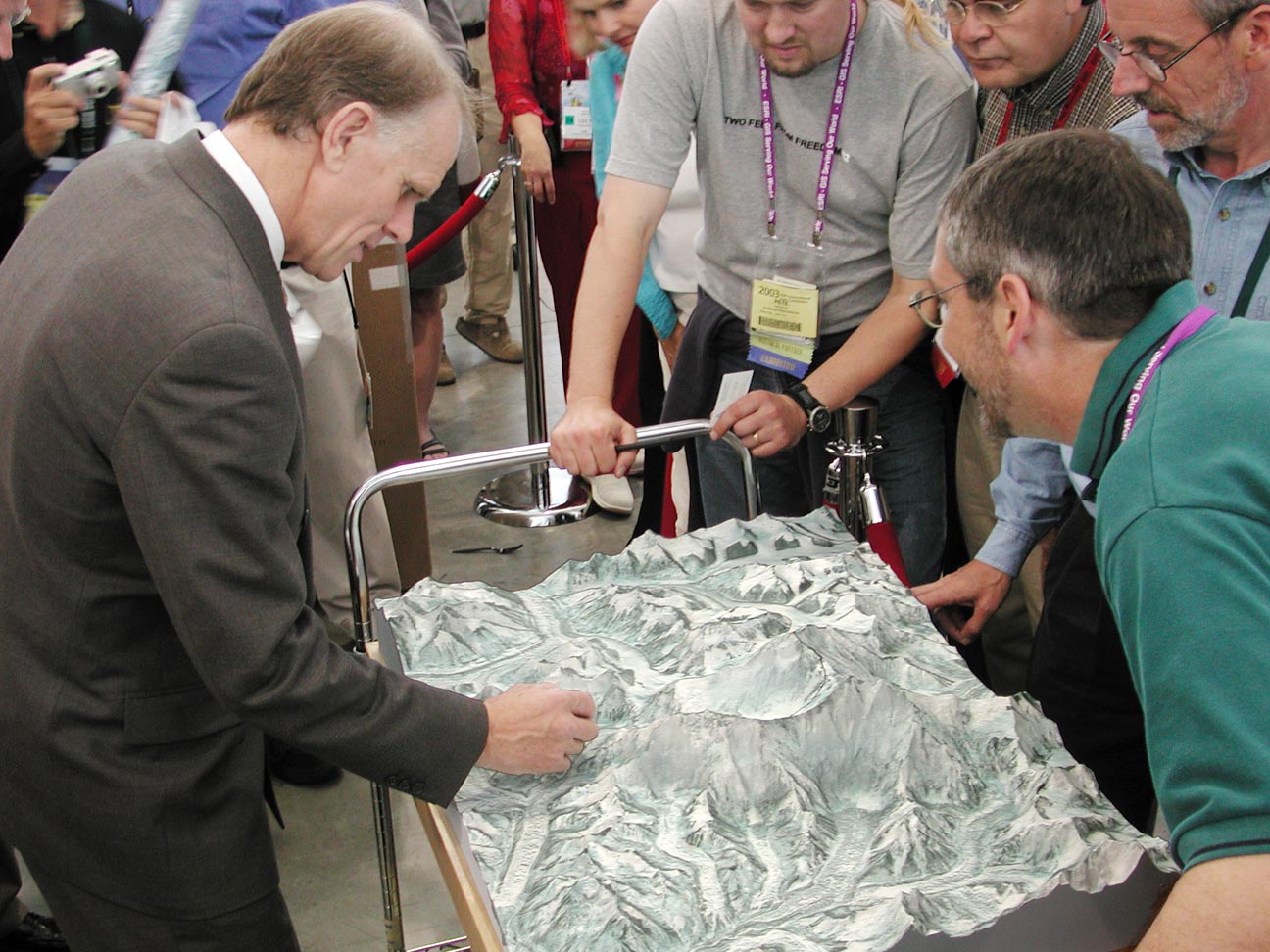 Keynote speaker Peter Hillary traces the steps of his 50th Anniversary Tribute Climb of Mount Everest on a

model produced by Solid Terrain Modeling at the 2003 ESRI Map Gallery.Keynote speaker Peter Hillary traces the steps of his 50th Anniversary Tribute Climb of Mount Everest on a model produced by Solid Terrain Modeling at the 2003 ESRI Map Gallery.

The National Geographic Society sponsored this historic summit expedition and commissioned Solid Terrain Modeling, the only company to make full color photo-realistic physical terrain models using their proprietary ink jet printing technology on Ontario Specialty Coating's C-127-3 white-matte ink jet receptive coating, to build an exact replica of this renowned peak.

Contact Information
Contact:
Jim Kedenburg
Telephone: 315-782-1696
Fax: 315-782-7771
Postal address: 22564 Fisher Road Watertown, New York 13601
E-mail:
jim
@ontspct.com
Webmaster: oscc@ontspct.com

Disclaimer: All statements, information, recommendations, and data provided by Ontario Specialty Coatings Corporation are believed and intended to be accurate and reliable but are presented without guarantee, warranty, expressed or implied, by Ontario Specialty Coatings Corporation. Statements, information, or suggestions concerning the possible use of the products or coating formulations are made without representation or warranty that any such use is free of any United States or Foreign patent infringements and are not recommendations to infringe on any United States or Foreign patents.